Does your best friend jaunt off to seemingly exorbitant destinations with no visible means of funding? Has your boss been going on about Ultimate Rewards® and how they've landed him a suite at the Park Hyatt Paris? Whatever the case, you've heard about award travel and you're interested. You may be new to award travel, but we're here to help get you started.
We'll break this down, step by step, so you can figure out how to plan your award travel.
4 steps to planning award travel
1. Pick your destination
The first thing you'll want to do when planning award travel is pick your destination. This may seem obvious, but there's a lot more to it when you're planning on using rewards points. This is because you'll find a huge variation in costs depending on where you're going.
For instance, you can get a one-way, business class flight to Tahiti using American Airlines miles. This flight will cost you as little as 80,000 AAdvantage miles when departing from anywhere within the contiguous U.S. However, you can also choose to fly to Europe in business class — from anywhere within the contiguous U.S. — and it'll cost you just 57,500 AAdvantage miles.
So, where you want to go makes a big difference. You'll also want to consider your dates of travel. Peak travel dates will often cost you more rewards points, just as they would with cash tickets. Traveling during the offseason can help you save points and still get you where you want to go.
Nerdy tip: Booking well in advance can give you better availability for flights you can purchase with rewards.
Once you've figured out where you want to fly, it's time to actually find a flight. Now, say that you're looking to travel to Hawaii during the spring. You're not worried about what class you get booked in; you're just looking for a round-trip ticket. How do you figure out which airline to use?
2. Research which airline miles to use
The most experienced award traveler in the world doesn't have every airline's award chart memorized, so they're going to do exactly what you'll want to do next — some research. Your studies can start with a simple online search. For example, "best ways to fly to Hawaii using points and miles" is a fairly common search. The search will net you a ton of results to help you along on your path. However, note that there is a wealth of information about award travel online, so don't just stop at one article. The more you read, the more you know.
If you're flying from the U.S., you'll likely be aboard an airline such as American Airlines, Delta, United, Alaska or Southwest. As a result, you'd probably think you'll want to book your award flights through their airline loyalty programs, right?
U.S.-based airlines are notoriously expensive when it comes to award flights. However, most of these airlines are also part of an alliance. These alliances grant foreign airlines access to these flights (and vice versa), which means you have many more options for booking flights than just sticking with local options.
Taking advantage of these alliances can greatly increase the destinations you can fly to, as well as increase the flight options you can book using rewards points. Consider which types of airline miles you already have or which ones you can easily get by transferring points from your credit card.
3. Search for redemptions
If you're just starting out, there are a few websites you can visit in order to find redemption options. AwardHacker can be a good jumping-off point for reward flights. You type in your flight information, and the website will provide available flight redemptions. It will also show you which points you need and how to get them.
Point.me is another option, but it's a paid service. It's regularly kept up to date and will show information similar to AwardHacker.
Finally, you can go about searching manually by checking out your flight dates and departure airport on any airline aggregator, such as Google Flights.
Say you want to fly from Los Angeles to Kona, Hawaii, from May 18 to May 29. You'll enter that information into Google Flights, which will provide a series of results showing you nonstop options available on:
Taking a closer look, you find that United has the best flight times for you, so those are the flights you'd like to book. However, a quick glance on United's website shows that it'll cost you 26,000 miles round trip — which is a lot.
Since United is a member of Star Alliance, you can look into a variety of United's other partners instead to compare flight costs. Here are a few of United's partners:
Each of these airlines is going to charge a different amount of miles for these flights, so that checking all of them is the only way to figure out which is the cheapest.
You could take the time to search each of the Star Alliance's 26 partners, but that probably isn't the most time-efficient move. Rather, use the articles you found earlier during your online search. Those will likely give you a quick and easy way to find out your best options.
For example, our article on the cheapest flights to Hawaii using points and miles says Turkish Airlines provides extremely cheap pricing on flights to the Aloha State. Looking at the Turkish Airlines website, you can see that the airline will charge you just 15,000 miles round trip for the same flights that will cost you 26,000 miles on United.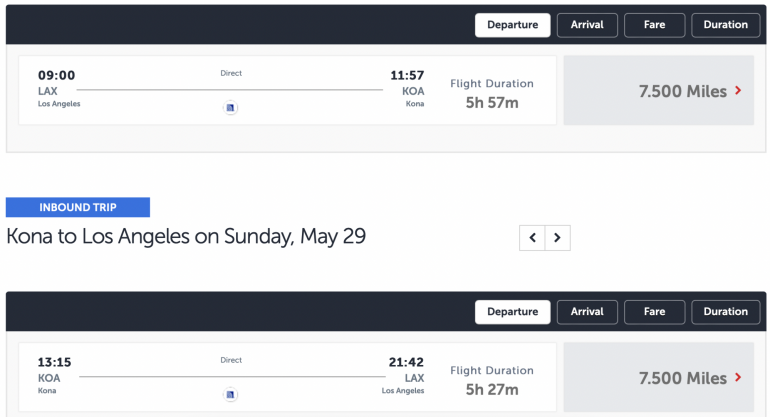 4. Earn your miles
Once you've decided you'd like to book a United flight using Turkish miles, you're going to want to set about earning those miles. There are generally three different ways to earn points and miles without taking a lot of flights:
You can open a co-branded credit card and earn points on purchases.
Not all of these options are available all the time. For example, those based in the U.S. don't have access to a co-branded Turkish Airlines card. Instead, you will have to get a card with a transferable point currency or look into purchasing points.
Open new credit cards
Flexible point currencies are exactly as they seem — points that can be converted into other points. There are five major transferable point currencies:
Each of these currencies has a variety of hotel and airline partners to which you can transfer your points. Turkish Airlines has partnerships with both Capital One and Citi, allowing you to transfer those points over at a 1:1 ratio.
Since your flights are going to cost you 15,000 miles round trip, you'll need to earn enough to cover this cost. The best way to do this is by opening a new credit card, such as:
Since these credit cards require a certain amount in purchases to receive those lump-sum bonuses, you'll want to be strategic about when you apply for your card.
If you don't have regular expenses that will bump you past the minimum spend, you may want to wait for a period when one-time purchases can do so. Otherwise, consider other techniques for spend, such as prepaying your electric and phone bills.
Buy points
Buying points can be a good idea in certain circumstances, especially if there's a bonus attached. However, you'll want to double-check first, because plenty of times, it won't make financial sense.
Turkish Airlines allows you to buy miles for $30 per 1,000 miles purchased. To purchase all the points needed to cover the 15,000 points for the flight outlined earlier, it would cost you $450. Purchasing that same ticket with cash instead of points would cost $318, so buying points here isn't a great idea.
However, one scenario in which it may make sense to buy points is when you need to top off your account.
Say you had just 14,000 Turkish miles on hand and wanted to buy your flight, but you were out of any flexible points. In this case, paying $30 for 1,000 miles can get you to the mileage balance you need without costing a ton of money.
If you're looking to plan award travel
Figuring out award travel can often feel complex and overwhelming, but it doesn't have to be. When planning your award travel, make sure to research the best redemption options. Booking with another airline in the same alliance could save you thousands of miles since U.S.-based airlines typically overcharge for award travel.
You can also earn points through flexible point currencies that are good for multiple airlines. Make sure to also take advantage of information online to find and book reward flights with ease — no matter where you're traveling.
How to maximize your rewards